Nintendo Consoles
Back to Home
Nintendo Entertainment System and Game Boy
In 1983, Nintendo launched the Family Computer (colloquialized as "Famicom") home video game console in Japan, alongside ports of its most popular arcade games. In 1985, a cosmetically reworked version of the system known outside Japan as the Nintendo Entertainment System or NES, launched in North America. The practice of bundling the system along with select games helped to make Super Mario Bros. one of the best-selling video games in history.
In 1988, Gunpei Yokoi and his team at Nintendo R&D1 conceived the new Game Boy handheld system, with the purpose of merging the two very successful ideas of the Game & Watch's portability along with the NES's cartridge interchangeability. Nintendo released the Game Boy in Japan on 21 April 1989, and in North America on 31 July 1989. Nintendo of America president Minoru Arakawa managed a deal to bundle the popular third-party game Tetris along with the Game Boy, and the pair launched as an instant success.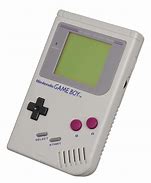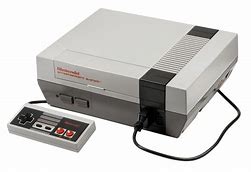 Super Nintendo Entertainment System and Virtual Boy
In August 1993, Nintendo announced the SNES's successor, codenamed Project Reality. Featuring 64-bit graphics, the new system was developed as a joint venture between Nintendo and North-American-based technology company Silicon Graphics. The system was announced to be released by the end of 1995, but was subsequently delayed. Meanwhile, Nintendo continued the Nintendo Entertainment System family with the release of the NES-101, a smaller redesign of the original NES. Nintendo also announced a CD drive peripheral called the Super NES CD-ROM Adapter, which was co-developed first by Sony with the name "Play Station" and then by Philips. Bearing prototypes and joint announcements at the Consumer Electronics Show, it was on track for a 1994 release, but was controversially cancelled.
In 1995, Nintendo announced that it had sold one billion game cartridges worldwide, ten percent of those being from the Mario franchise.[citation needed] Nintendo deemed 1994 the "Year of the Cartridge". To further their support for cartridges, Nintendo announced that Project Reality, which had now been renamed the Ultra 64, would not use a CD format as expected, but would rather use cartridges as its primary media format. Nintendo IRD general manager Genyo Takeda was impressed by video game development company Rare's progress with real-time 3D graphics technology, using state of the art Silicon Graphics workstations. As a result, Nintendo bought a 25% stake in the company, eventually expanding to 49%, and offered their catalogue of characters to create a CGI game around, making Rare Nintendo's first western-based second-party developer. Their first game as partners with Nintendo was Donkey Kong Country. The game was a critical success and sold over eight million copies worldwide, making it the second best-selling game in the SNES library. In September 1994, Nintendo, along with six other video game giants including Sega, Electronic Arts, Atari, Acclaim, Philips, and 3DO approached the United States Senate and demanded a ratings system for video games to be enforced, which prompted the decision to create the Entertainment Software Rating Board.
Aiming to produce an affordable virtual reality console, Nintendo released the Virtual Boy in 1995, designed by Gunpei Yokoi. The console consists of a head-mounted semi-portable system with one red-colored screen for each of the user's eyes, featuring stereoscopic graphics. Games are viewed through a binocular eyepiece and controlled using an affixed gamepad. Critics were generally disappointed with the quality of the games and the red-colored graphics, and complained of gameplay-induced headaches. The system sold poorly and was quietly discontinued. Amid the system's failure, Yokoi retired from Nintendo. During the same year, Nintendo launched the Satellaview in Japan, a peripheral for the Super Famicom. The accessory allowed users to play video games via broadcast for a set period of time. Various games were made exclusively for the platform, as well as various remakes.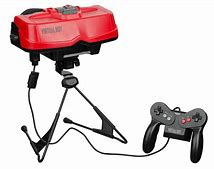 Nintendo 64 and Game Boy Color
In 1996, Nintendo released the Ultra 64 as the Nintendo 64 in Japan and North America. The console was later released in Europe and Australia in 1997. The Nintendo 64 continued what had become a Nintendo tradition of hardware design which is focused less on high performance specifications than on design innovations intended to inspire game development.[27] With its market shares slipping to the Sega Saturn and partner-turned-rival Sony PlayStation, Nintendo revitalized its brand by launching a $185 million marketing campaign centered around the "Play it Loud" slogan. During the same year, Nintendo also released the Game Boy Pocket in Japan, a smaller version of the Game Boy that generated more sales for the platform. On 4 October 1997, famed Nintendo developer Gunpei Yokoi died in a car crash. In 1997, Nintendo released the SNS-101 (called Super Famicom Jr. in Japan), a smaller redesigned version of the Super Nintendo Entertainment System.
In 1998, the successor to the Game Boy, the Game Boy Color, was released. The system had improved technical specifications allowing it to run games made specifically for the system as well as games released for the Game Boy, albeit with added color. The Game Boy Camera and Printer were also released as accessories. In October 1998, Retro Studios was founded as an alliance between Nintendo and former Iguana Entertainment founder Jeff Spangenberg. Nintendo saw an opportunity for the new studio to create games for the upcoming GameCube targeting an older demographic, in the same vein as Iguana Entertainment's successful Turok series for the Nintendo 64.
Game Boy Advance and GameCube
In 2001, Nintendo introduced the redesigned Game Boy Advance. The same year, Nintendo also released the GameCube to lukewarm sales, and it ultimately failed to regain the market share lost by the Nintendo 64. When Yamauchi, company president since 1949, retired on 24 May 2002,[30][31] Satoru Iwata became first Nintendo president who was unrelated to the Yamauchi family through blood or marriage since its founding in 1889.
In 2003, Nintendo released the Game Boy Advance SP, a redesign of the Game Boy Advance that featured a clamshell design that would later be used in Nintendo's DS and 3DS handheld video game systems.
Nintendo DS and Wii
In the first half of 2006, Nintendo released the Nintendo DS Lite, a version of the original Nintendo DS with lighter weight, brighter screen, and better battery life. In addition to this streamlined design, its prolific subset of casual games appealed to the masses, such as the Brain Age series. Meanwhile, New Super Mario Bros. provided a substantial addition to the Mario series when it was launched to the top of sales charts. The successful direction of the Nintendo DS had a big influence on Nintendo's next home console (including the common Nintendo Wi-Fi Connection), which had been codenamed "Revolution" and was now renamed to "Wii".[citation needed] In August 2006, Nintendo published ES, a now-dormant, open source research operating system project designed around web application integration but for no specific purpose.
In the latter half of 2006, Nintendo released the Wii as the backward-compatible successor to the GameCube. Based upon intricate Wii Remote motion controls and a balance board, the Wii inspired several new game franchises, some targeted at entirely new market segments of casual and fitness gaming. Selling more than 100 million worldwide, the Wii was the best selling console of the seventh generation, regaining market share lost during the tenures of the Nintendo 64 and GameCube.
On 1 May 2007, Nintendo acquired an 80% stake on video game development company Monolith Soft, previously owned by Bandai Namco. Monolith Soft is best known for developing role-playing games such as the Xenosaga and Baten Kaitos series.
During the holiday season of 2008, Nintendo followed up the success of the DS with the release of the Nintendo DSi in Japan. The system features a more powerful CPU and more RAM, two cameras, one facing towards the player and one facing outwards, and had an online distribution store called DSiWare. The DSi was later released worldwide during 2009. In the latter half of 2009, Nintendo released the Nintendo DSi XL in Japan, a larger version of the DSi. This updated system was later released worldwide in 2010.
Nintendo 3DS and Wii U
In 2011, Nintendo released the Nintendo 3DS, based upon a glasses-free stereoscopic 3D display. In February 2012, Nintendo acquired Mobiclip, a France-based research and development company specialized in highly optimized software technologies such as video compression. The company's name was later changed to Nintendo European Research & Development. During the fourth quarter of 2012, Nintendo released the Wii U. It sold slower than expected,[42] despite being the first eighth generation console. By September 2013, however, sales had rebounded.[clarification needed] Intending to broaden the 3DS market, Nintendo released 2013's cost-reduced Nintendo 2DS. The 2DS is compatible with but lacks the 3DS's more expensive but cosmetic autostereoscopic 3D feature. Nintendo also released the Wii Mini, a cheaper and non-networked redesign of the Wii.
On 25 September 2013, Nintendo announced it had purchased a 28% stake in a Panasonic spin-off company called PUX Corporation. The company specializes in face and voice recognition technology, with which Nintendo intends to improve the usability of future game systems. Nintendo has also worked with this company in the past to create character recognition software for a Nintendo DS touchscreen. After announcing a 30% dive in profits for the April to December 2013 period, president Satoru Iwata announced he would take a 50% pay-cut, with other executives seeing reductions by 20%–30%.
In January 2015, Nintendo announced its exit from the Brazilian market after four years of distributing products in the country. Nintendo cited high import duties and lack of local manufacturing operation as reasons for leaving. Nintendo continues its partnership with Juegos de Video Latinoamérica to distribute products to the rest of Latin America.
On 11 July 2015, Iwata died from a bile duct tumor at the age of 55. Following his death, representative directors Genyo Takeda and Shigeru Miyamoto jointly led the company on an interim basis until the appointment of Tatsumi Kimishima as Iwata's successor on 16 September 2015. In addition to Kimishima's appointment, the company's management organization was also restructured—Miyamoto was named "Creative Fellow" and Takeda was named "Technology Fellow".
Mobile and Nintendo Switch
After the announcement of the mobile game Super Mario Run in September 2016, Nintendo's stock soared to just under its recent high point after the release and success of Pokémon Go earlier in the year, something noted by journalists as even more significant than Pokémon Go, as Super Mario Run was developed in-house by Nintendo, which was not the case with Pokémon Go. In a December 2016 interview prior to the release of Super Mario Run, Miyamoto explained that the company believed that with some of their game franchises, "the longer you continue to make a series, the more complex the gameplay becomes, and the harder it becomes for new players to be able to get into the series", and that the company sees mobile games with simplified controls, such as Super Mario Run, not only allows them to "make a game that the broadest audience of people could play", but to also reintroduce these properties to newer audiences and draw them to their consoles.
On 20 October 2016, Nintendo released a preview trailer about the NX, revealing the official name to be the Nintendo Switch. According to Fils-Aimé, the console gave game developers new abilities to bring their creative concepts to life by opening up the concept of gaming without limits. In December 2016, Nintendo released Super Mario Run for iOS devices, with the game surpassing over 50 million downloads within a week of its release. Kimishima stated that Nintendo would release a couple of mobile games each year from then on.
In September 2017, Nintendo announced a partnership with the Chinese gaming company Tencent to publish a global version of their commercially successful mobile game, Honor of Kings, for the Nintendo Switch. The announcement lead some to believe that Nintendo could soon have a bigger footprint in China, a region where the Switch is not sold and is largely dominated by Tencent. In November 2017, it was reported that Nintendo would be teaming up with Illumination, an animation division of Universal Pictures, to make an animated Mario film. In April 2018, Nintendo announced that Kimishima would be stepping down as company president that June, with Shuntaro Furukawa, former managing executive officer and outside director of The Pokémon Company, succeeding him.
In January 2019, Nintendo announced it had made $958 million in profit and $5.59 billion in revenue during 2018. In February 2019, Nintendo of America president Reggie Fils-Aimé announced that he would be retiring, with Doug Bowser succeeding him on April 15, 2019.